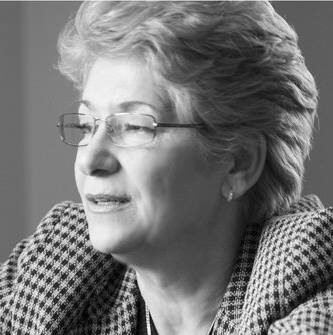 Shkrimtare, anëtare korrespondente e Akademisë së Shkencave dhe të Arteve të Kosovës, anëtare e Akademisë Europiane të Shkencave, profesor universitar. U lind më 1950 në Prizren (Kosovë), nga prindërit Margarita Mjeda dhe Muhamed Shukriu. Kreu studimet në Fakultetin Filozofik – Dega e Arkeologjisë (1972), si dhe magjistraturën në Universitetin e Beogradit (1979) dhe doktoroi në Universitetin e Prishtinës (1990). Ligjëroi kurset Arkeologjia, Histori e Lindjes së Lashtë, Histori e Greqisë dhe e Romës dhe Menaxhimi i Trashëgimisë Kulturore. Është Nënkryetare e PEN Qendrës së Kosovës. Krijimtaria letrare përfshinë shtatë libra me poezi, tri drama dhe një roman.
Kontribuoi në krijimin e shtetit të Kosovës dhe zhvillimin e proceseve demokratike, themeloi Forumin e Gruas të Lidhjes Demokratike të Kosovës (1990) dhe ishte kryetare e saj (1995-2000). Ishte organizatore e demonstratave të grave kundër regjimit serb dhe u angazhua për jetësimin e barazisë gjinore. Ishte Bashkë-Drejtuese e Departamentit të Kulturës-UNMIK (2000-01), deputete e Kuvendit të Kosovës (1992-98; 2002-04), Zv.Ministre e Punëve të Jashtme (1992-98). Ngriti zërin kundër korrupcionit nga viti 2004 dhe bashkëthemoi partinë reformiste Alternativa Demokratike e Kosovës (2004). Ishte Visting Scholar në Universitetin e Harvardit (2002), mori pjesë në International Writing Program të University of Iowa (2005), Voix Vives, Vilenica Festival e në takime të ndryshme ndërkombëtare letrare, shkencore dhe politike.
Publikimet letrare:
2015 Pasqyra e thyer, Koha, Prishtinë (roman);
2014 Ungëshimë, Jeta e Re, Prishtinë (poezi);
2001 Përjetësi, Dukagjini, Pejë (poezi);
1998 Kësulëkuqja e rrokaqiellit, Suharekë (dramë për fëmijë);
1992 Lkeni i Hasit, Rilindja, Prishtinë (dramë);
1990 Nënqielli, Rilindja, Prishtina (poezi, Çmimi Vjetor i ShShK);
1986 Kthimi i Euridikës, Rilindja, Prishtinë (dramë);
1985 Syri i Natës, Rilindja, Prishtinë (poezi);
1980 Legjenda e Hasit, Tiranë (poezi);
1978 Gjakim, Rilindja, Prishtinë (poezi);
1972 Sonte zemra ime feston, Rilindja, Prishtinë (poezi).
Publikimet shkencore dhe profesionale:
2016 Studime të Dardanisë, Akademia e Shkencave dhe e Arteve e Kosovës, Prishtinë;
2014 Hyjnesha Dardane, Akademia e Shkencave dhe e Arteve e Kosovës, Prishtinë;
2012 Kisha e Shën Prendës – Prizren, Ministria e Arsimit, Shkencës dhe Tekonologjisë,
Prishtinë;
2012 Distunguished Albanian Women, Dudaj, Tiranë;
2011 Eminentne albanke, Plima, Ulcin;
2004 Ancient Kosova, Ministry of Culture, Youth and Sprot, Prishtina;
2004 Kosova antike, Ministry e Kulturës, Rinisë dhe Sprotit, Prishtinë;
2003 Gra të shquara shqiptare, Teuta, Prishtinë (2000);
1996 Dardania protourbane, Dukagjini, Pejë (Çmimi Gani Bobi 1996);
1995 Historia e Kohës së Vjetër – Lindja e Lashtë, Prishtinë.
Filma dokumentarë:
2010 Ulpiana antike;
1995 Prevent the War in Kosova.
Ko-autore:
1995 The National Report on Kosova – Beijin Conference on Women;
1997 Kosova and other Albanians outside Albania;
1997 Kosova: The Hungry Future, World Food Summit, Rome;
1998 Kosova – milli rapor, Kosova sorunu, Istambul.