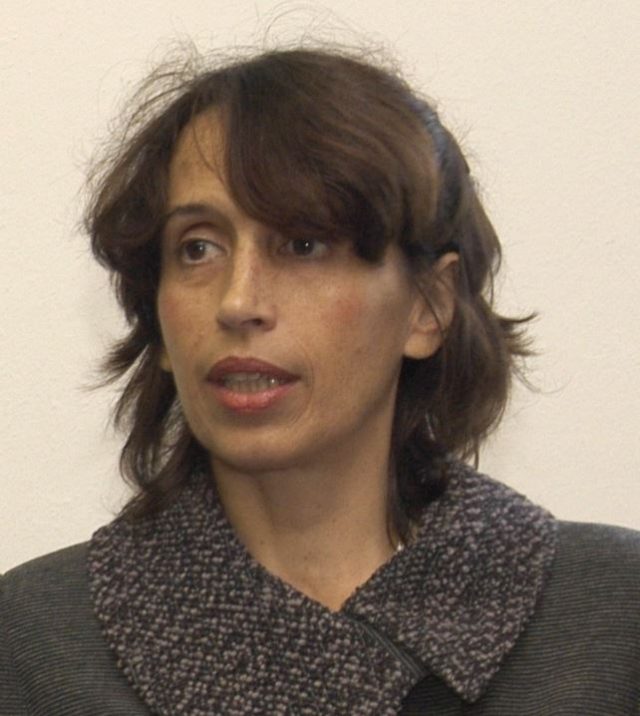 Markéta Hejkalová is Czech writer, translator (of Finnish literature), publisher and director of the most popular Czech bookfair. She is also active member of International PEN club (vice-president of Czech Centre).
She writes short-stories, non fiction books, books for children, but above all novels about Czech people – mostly women – who spend some time of their lives in foreign countries. The magician from Peking happens in China, Evidences of her life (Nje Kosovar ne jeten time) in Kosovo, The red strays of northern sun in South Korea. Her books were translated into English, German, Russian, Bulgarian, Albanian and Serbian.
The story, which is published here, is a base for the novel, which I am finnishing just now.
Markéta Hejkalová, Scenes from the Lives of Some Women Writers
Dubrovnik, 1933
Božena, a Czech woman writer, steps tentatively out onto a spacious hotel patio. The women sitting under palm trees are wearing fancy light summer dresses, as is Božena.
In the program of the International Writers' Convention the soon to start women writers' afternoon is the only item which Božena has the courage to attend. She is not a member of PEN International, although she might have more readers than some important male writers. The ones who are featured in newspapers, the ones who win prizes and who despise Božena and the women who read her books.
Božena stops at the door. The women notice her and one of them comes quickly over to greet her.
'Welcome!' the friendly woman says. 'I am an author from Finland, Anni Swan Manninen.'
'I am…' Božena hesitates. She has two names as well. She is the respectable Mrs Čížek, wife of a doctor, presently on holiday here by the Adriatic Sea, but in the literary world she is…'Fringilla', she introduces herself only by her Latin pen name, 'an author from Czechoslovakia, and this is…' Božena's son Karel, who has chivalrously escorted his mother here, now politely bowing.
Anni is reminded of her youngest, Mauno. It's a shame he did not come over with us, she thinks. Mauno is a talented poet after all.
'What a funny coincidence, that we are both named after birds,' Anni says.
'You know what fringilla means, a siskin,' says Božena, surprised.
'Yes, and I myself am a swan.'  Anni smiles and then returns to her place as the chairwoman.
'Ladies, women writers, sisters! The world has just recovered from the horrors of the Great War, and it is our duty as women writers to restore the harmony and balance…' she starts her address.
Prague, 1943
'Not guilty on all accounts?' Lina hears the judge, incredulous. The driver standing trial killed her son, he should have been shot dead on the spot, all of them, every single one of them in that car: the driver's wife and those footballers from Jungfer Břežan. And now the judge has the nerve to tell them that it was her beloved Klaus who rode his bicycle in the front of the car and got run over. The Czechs murdered Reynhard, who only wanted what was good for them, but was that enough, no! Now, a year and a half on, they take it out on an innocent child!
'Who's that judge?' Lina asks her secretary.
'Nobody famous,' the woman replies. 'Called Karel Čížek.'
The judge, a man about her age, looks a bit Jewish. And she, Lina Heydrich, is a German woman, the widow of the murdered Protector… who would protect her?
Suddenly Lina wants it all to be a dream, a nightmare. Soon she will wake up back home, at the mansion of Jungfer Břežanin, safe with her husband and children.
Prague, 1952
Božena Čížek handed her son a cup of coffee… ersatz of course. Poor boy, working from dawn to dusk. Karel is the State Prosecutor. It is hard work, a great responsibility. And still Karel finds the time to visit her almost every day. Karel is such a good boy, she really can't complain.
But why is Karel so insistent that she should not go to court and see this particular case?
'Karel, surely you could get me a ticket, if you wanted to. They are writers like I am.' Even though they were always in the newspapers. And they still are! Enemies of the people…
'Mother, I can't. It's out of the question, believe me!" Karel quickly finished his coffee and left.
Doesn't mother understand how easily she herself could get a criminal charge, a prison sentence? The daugher of a great landowner, and a writer as well! The most important thing is not to attract attention, as attention might be fatal!
'You write, what? Novels, you say? Ridiculous! Rubbish that made poor country folk stray from the path to revolution! No one has ever read them, no one except maybe some ignorant peasant woman here and there, you are nobody, you have no talent as a writer, you are nothing!' Karel shouts in the courtroom at the author – a cowardly, skinny man dressed in oversized prison clothes. František Křelina. They had some novels by Krelina back home, Karel remembers, but he never read them.
Magda bites her lip to keep her from crying, howling. She must not. She must keep her silence and listen while the prosecutor insults her father, a man who never hurt anyone. This is not true, this can not be true, Hana keeps telling herself and hopes she will soon wake from this nightmare – but the nightmare will go on for another twelve years.
The Baltic Sea, 1965
Magda opened the cabin door. She still could not believe she is not dreaming. That she will be representing her father in an international writers' reunion in Finland, having written one book only. Father did not get an exit visa – he has just been released from prison – but Magda did. She could not believe that it was only yesterday when she said goodbye to her husband and her little girl, Ilona, and that she is now traveling all by herself on this magnificent ship. The sea, the white seagulls, and the sun at 10 p.m.
There was a knock on the door.
'Come in', Magda said in German.
An elderly lady stepped in carrying two suitcases.
'Good evening! I hear you speak German!' the lady said, delighted.
'Just a bit. During the war we had to learn…'
'Where do you come from?' the lady interrupted.
'Czechoslovakia.'
'Such a wonderful country!' the lady was delighted again. 'I used to live there for a couple of years. Are you traveling to Finland on holiday?' she changed the subject.
'No, I'm going to a writers' meeting,' Magda answered proudly. 'What about you?'
'I'm  going to Finland to get married. My second marriage. Can you imagine that! I am fifty-four and starting a new life. Lina Manninen,' she introduced herself, already using the name of her future husband. 'My fiance is the director of the National Theatre in Finland, and also a great poet. Mauno Manninen. You wouldn't happen to know him? No? What about his mother, Anni Swan, she is a great author as well? You don't know her either?'
Magda shook her head and Lina gave her a very suspicious look.
Havlíčkův Brod – a Czech town, 1985
'I loved my first husband and I loved Bohemia, I was happy there, and I'd go back right now, if I could, with my bare feet if I had to…' said a woman's voice on TV. The TV stood in a corner of the room, so Ilona did not see the screen. Did not see the white-haired old lady, who said those words in German, did not see the presenter who repeated them in Czech, did not see the titles stating that the Czech TV will be broadcasting the rerun of an interview with Lina Manninen, died today, the widow of Reinhard Heydrich.
Ilona saw Karel's sweaty face over her own. They made love on the floor, in order to leave no traces, and it made Ilona sad. She did not have a husband, and in this borrowed apartment she had as her lover the man of another woman.
'My story got published!' Afterwards Ilona handed him the magazine.
'What do you know, a woman writer!' Karel wondered absently, quickly dressing up. 'Like my grandmother.'
'Really? Who was she?' Ilona was surprised.
'She was called Čížek, same as I. But she wrote under the pseudonym of Fringilla… but look, I must really be going.'
Karel handed the magazine back to Ilona and was off before Ilona could tell him that the things they had in common went far beyond making love in a borrowed apartment. Ilona's grandfather had been an author as well. Maybe they had known each other. One day I will write about that, and then he will read it, Ilona said to herself with a little smile.