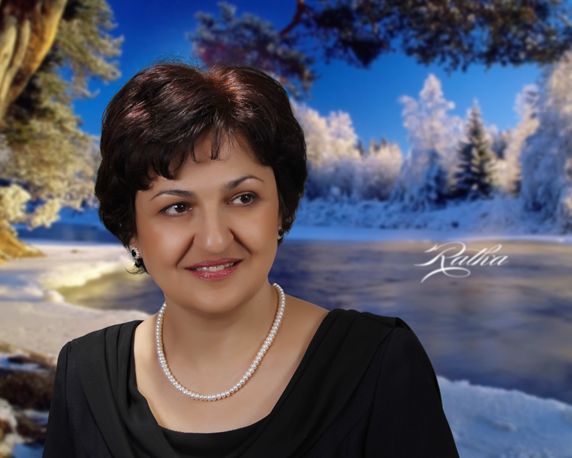 Ratka Bogdan was born in 1965 in Radovis, Macedonia. In 1994 she immigrated with her husband and son to South Africa in an attempt to escape the economic and political instability in former Yugoslavia, and a few years later to Florida, USA. She holds Bachelor's degree in Technology from the University "Cyril and Methodius" in Skopje-Macedonia, and Master of Science degrees in Chemical Engineering and in Biomedical Engineering, both from the University of South Florida (USF) in Tampa-Florida.  Currently she is completing her PhD studies in Biomedical Engineering, at the USF in Tampa, Florida.  Ratka has been working for several US based global companies as an engineer and manager on innovative design and engineering of medical devices for the healthcare industry. The noble purpose of her profession, where engineering and science meet to help humanity, is in line with her professional orientation to improve people's quality of life and life expectancy, which comes into harmony with her great love for poetry and the subsequent poetic expression of life itself, all of these elements being an integral part of her life. In her youth she was a journalist for the newspaper Mlad Borec in Skopje, as well as a radio host for a local radio talk show in her home town. She has written and published poetry and prose since elementary school. This passion continued throughout her years of relocation and emigration until present days. Through her poems she's commenting on global and social situations that crossed her path, speaking about herself, or her environment, often intertwining science and poetry on her quest for answers. The poems are imbued with the strength of her zeal for life. Her poetry often is the reflection and reverberations of her life and times, often inspired by the places she visited, the people she met, and the relationship with nature and the universe. At some point it's no longer just poetry, it becomes a meditative journey.
Ratka Bogdan lives with her family in Tampa, Florida, USA. She is a published poet and a member of the Poetry Society of America and the Academy of American Poets. She is also a volunteer for Toastmasters International, a community based program that helps professionals build effective listening, communication and public speaking skills, which promotes good interpersonal communication. And last but not least, she is also a certified yoga instructor, teaching private lessons to people who have the desire or special need to master this ancient discipline for balancing the body and mind, through exercise and mindful journaling, which makes it a soulful journey. Ratka Bogdan was recently nominated as a member of the Board of Directors and Ambassadress of Goodwill for the Axlepin Publishing Website, at www.axlepinpublishing.com.ph
Individual Books:
2011,   Sailboat: Sailing Though the Ocean of Life (Poems in English), "Xlibris" Publishing, USA
2010,   Jedrenjak (Poems in Serbian), "Kordun" Pennsylvania, USA / "Graficar" Uzice, Serbia
2010,   Korab (Poems in Macedonian), "Kordun" Pennsylvania, USA / "Graficar" Uzice, Serbia
2010,   Sailboat (Poems in English), "Kordun" Pennsylvania, USA / "Graficar" Uzice, Serbia
Group Poetry collections:
2015,   Encyclopedia "Serbian authors in the diaspora", "Vesol", Belgrade, Serbia
2014,   A Word From The Diaspora (Serbian authors from the Americas), "Kordun" Publishing, USA
2014,   Mandela Tributes (Poems by international poets), "The Poetry Society of India", India
2013,   Turning Of The Wheel (Poetry collection-selected authors), "Poezija SRB", Serbia
2012,   Sooty Alley – XXIII International Poetry Assembly (Poetry collection), "Miroslav Antic", Serbia
2012,   Windmill (Poetry collection-selected authors), "Poezija SCG", Serbia
2010,   Sooty Alley – XXI International Poetry Assembly (Poetry collection), "Miroslav Antic", Serbia
2010,   Love Recipe (Poetry collection-selected authors), "Poezija SCG", Serbia
Awards:
2015,   Distinguished Poet Award – "WIN – Writers International Network", Vancouver, Canada
2013,   Best Poet Award – "Axlepin Publishing Website", Manila, Philippines
THE BIG FLOOD AGAIN
There is no pain anymore
just tenderness in the senses.
As the seasons come and go
we observe the changes
in the landscapes, in the water
in the faces.
Here goes my river again
I follow it as it flows
along the shore, the passage,
between the hills and riverbed coves,
known opening of the crossing
well-known extensions, whispering, sparkling,
recognizable meanders,
warm currents and eddies,
steady beats of waterfall splashes,
familiar sounds and exhalations…
Millions of years have passed
since the great flood of the ages…
The consequences of devastation,
desolation, and isolation,
repeating itself.
Yet, the miracle of new creation
looming through the darkness
to reimburse the loss…
Just like a karmic destiny
of vengeance and atonement.
When you're shivering but excited,
despite the coldness and fear.
When the Earth plates are shifting
and the magnetic poles merge near.
When fire burns besides the water
and thunder is rumbling
while tides are soaring
at the speed of lightning.
When you are ready to die,
right then and there,
as you often dreamed
and prayed
just to be reborn
one heavenly day.
All over again.
© Ratka Bogdan
GENETIC ALGORITHM

From the charged plasma
of the nucleus,
and from the core
flows the magma of existence
through assorted channels
of a mysterious maze
indefinitely it extends
the magic road
of unique collages.
The code of the genome
maps the Epiphany
in the pupils of its disciples
and invokes the offspring
for a triple bath
in deltas immemorial.
A white dove carries
the branch and the imprint
for spreading the breeds
to the chosen, for Salvation.
While the wisdom travels
from mouth to mouth,
like a kiss from heaven
till Transformation.
© Ratka Bogdan
STARDUST
Drums pound through the pulse
with an infinite spiral of sighs,
we rapidly embrace
the rip of the stratosphere,
the sonic boom,
the entry into Space.
Trembling in the Universe
as luminous points in the dark,
like lanterns in the distance
on the skyscraper horizon,
we rise up high,
astonished and bright,
numb and light,
covered with stardust.
Fate downed on us
written in the stars
forever more and more than ever
our constellation expands
in all directions,
and at no resistance
through its miracle of existence
every second on its way.
With us and our stardust
at the fore end!
© Ratka Bogdan
IF THERE WOULD NOT BE YOU
If there would not be you
there wouldn't be half of me.
The Earth would be shaken,
the Universe would swallow me,
the Sun would suddenly eclipse,
the blood in my veins would freeze…
When all the fluids are frozen glaciers
and avalanches lurk within,
I ask myself: what is there
that gives a man the strength
to start all over again,
entangle the sadness,
for the sky to brighten up,
the ice to melt,
the soul to illuminate?
If there is no you
the sky would cry aloud,
the nights would be prolonged,
darkness would wrap me around,
a heavy burden would pin me down.
When the storms abate,
when every twitch calms down,
when there's no might left in you
nor in me the stunning beauty,
I would wake up from my dream,
the fantasy would come to an end,
there would be no one to dispute,
no one to pray for to the Almighty.
Nothing would be the same, no more,
neither for better nor for worse,
all meaning would disappear,
everything would vanish then,
all of our desires unfulfilled
all of our dreams forever lost…
If there would not be you,
my darling!
© Ratka Bogdan
YOU CAME UNINVITED

You came suddenly,
descended from heaven
like a white angel,
appeared from nowhere…
Who would have known that?
You came without a bow
or introduction,
without notice or fanfare,
rather unexpectedly.
You came quietly, uninvited,
peered curiously
like a ray of light
through the door ajar,
dispersed any suspicion,
stood on the threshold
and hung about,
never even knocked
or asked if you were allowed.
© Ratka Bogdan
PUNISHMENT
You tell yourself:
An entire life awaits me.
There is time
for accomplishment
and life achievements.
But, there isn't…
It grew wings,
hawk's wings,
and it flies away
every day, without consent..
Still, the heart remains the same:
One more step,
one more chanel
on the plowed land,
a little longer to reside
to leave a trail behind…
Is it punishment
or a gift extraordinary
that persistent longing,
never satisfied.
To love
even when thrown away,
to exist
even after nothing's left.
© Ratka Bogdan