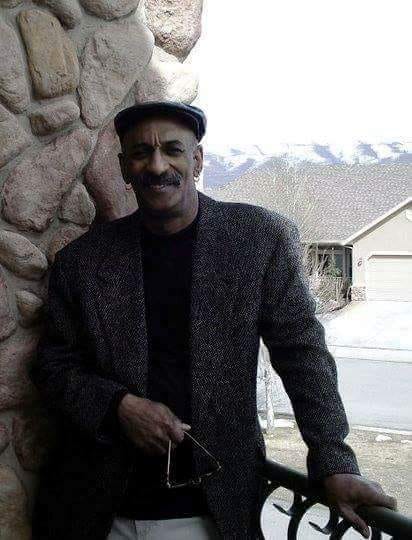 Hello and Greetings to all the Patrons, Sponsors, Citizens and Poets. It is an honor to once again share with you all my gratitude and my poetry. A very, very special thank you to my esteemed Brother Mr. Fahredin Shehu and his wonderful family of brothers, sisters, friends and supporters, who make this wonderful event possible.
Bless Up
William S. Peters, Sr.
aka
'Just Bill'
Poet, Writer, Activist and Publisher
A 2016 & 2019 Pulitzer Poetry Prize nominee, William S. Peters, Sr., AKA 'just bill', has devoted himself to poetry in 1966. Since the day he became a dedicated voice in making his creative expression public – regardless of form, he has held the passionate conviction that the written art is a necessity. The author's spiritual essence reflects in his social actions, all of which serve his efforts toward the betterment of humanity and the easing of its plight.
To date, Peters authored about 55 books. His poems have been published in excess of 220 anthologies, newspapers and literary magazines. In September 2015, the author was recognized as the "Poet Laureate" at the Kosovo International Poetry Festival. His sizeable book, The Vine Keeper was awarded The Golden Grape Award and showcased in Rahovec, the festival's center. Being so inspired by this communion of poets, Peters penned a book of tribute, O Sweet Kosovo . . . Dreams of Rahovec. This work has been since translated into Albanian by Fahredin Shehu, an esteemed poet and scholar, and was incorporated into the Rahovec School System in 2017.
From the 2015 inaugural formal introduction into the world of international poetry onward, invitations to William S. Peters, Sr. grew in speed and frequency. In 2016, he attended the Morocco International Poetry Festival in Rabat as an invited participant and the Key Note speaker. In 2017, the author's journey continued through a dazzling tour to Strumica, Macedonia; Monastir, Tunisia; Casablanca and Larache, Morocco; Istanbul, Turkey; Rome, Italy; Amman, Jordan; Bethlehem, Mar Saba, Ramallah and West Bank, Palestine, and Chicago, USA. Bill's presence is sought out in a growing number of new anthologies . . .
The author has been immensely inspired in his travels, and composed a large number of poems and prose pieces during and after his introduction to the places of his personal experiencing. Several resulting poetry collections have been included in Tunisia, My Love and 7 Days in Palestine . . . the Land, the People, the Blood, the Tears and the Laughter. Peters was commissioned to write the book on Tunisia. It was launched in 2018 at the Poetry by the Sea Festival in Monastir, Tunisia.
William S. Peters, Sr. is the founder of Inner Child Press International, and currently serves as the CEO of Inner Child Enterprises, Ltd., Managing Director of Inner Child Press International, Executive Producer of Inner Child Radio, and Executive Editor of Inner Child Magazine. He has published many first-time writers from across the globe through hands-on assistance, counseling and guidance, thus introducing a large body of literary work to the public. In its brief history, Inner Child Press International – Peters' publishing enterprise has brought global attention to a multitude of poets by means of official releases and inclusion of their craft in numerous anthologies.
The author's undertakings under his publisher-cloak encompass notable anthology series of global endeavors, including the voluminous World Healing, World Peace – published every two years since 2012, and The Year of the Poet – a monthly book, as conceived in January 2014 and published every month since. In the latter anthology, The Poetry Posse, a core group of contributors, comprises between fourteen and eighteen writers from various world regions. This publication also features four guest poets each month.
William S. Peters, Sr. has received recognition for his work at large – publishing as well as writing also in the U.S., his country of birth. His appearances on North American radio and television shows are too copious to list here. His poetic work has been published in various countries of the world, including Kosovo, Albania, Germany, Iran, Iraq, India, The Philippines, Taiwan, Canada, Italy, Romania, Saudi Arabia, Jordan, Morocco, Italy, England, Romania, France, and Poland. The author is known to be adamant about taking time out to share his humanitarian, spiritual and philosophical insights wherever he is invited. He has cited and performed his poetry at a variety of venues, such as summer camps for children, teacher workshops, poetry workshops and classrooms, including an October 2017-lecture to graduate students at The University of Jordan in Amman, Jordan.
In addition to composing poetry, the author has one other life-time passion: to induct underrepresented cultures into the mainstream entity of the "West". To materialize this predilection, he has – among other globally collaborative works, published Voices from Iraq, Kurdish Voices, Aleppo, Palestine, and the encyclopedic Balkan Anthology. In his own words: he has been 'building bridges of cultural understanding' throughout his career as a poet and publisher.
In 2019, William S. Peters, Sr. has authored Eclectic Verse, another voluminous book of poems. His creative writings in 2020 include the five volumes of The Book of krisar. He is presently working on two new poetry books, with multiple additional manuscripts waiting for their turn.
Peters says: "I have always likened Life to that of a Garden. So, for me, Life is simply about the Seeds We Sow and Nourish. All things we 'Think and Do', will 'Be' Cause and eventually manifest themselves in an 'Effect' within our own personal 'Existences' and 'Experiences' . . . whether it be Fruit, Flowers, Weeds or Barren Landscapes!" In high regard of the "Fruits of his Labor", William S. Peters, Sr. wishes that everyone would thus go on to plant "Lovely Seeds" on "Good Ground" in their own "Gardens of Life".
Lost
We have walked through these fields
Of self-delusion
Much too long . . .
Are we lost, yet again?
I remember times
Such as these
When we sailed the
Uncharted seas
Of consciousness
Seeking adventure
Looking at times
For safe harbour
During the storms . . .
We survived,
Did we not
I often ask the questions
How & Why
Perhaps our purpose
Is just that ! . . .
They say,
It is what it is !
…..
Perhaps we are but wanderers,
Travelers,
Wonderers,
Seeking something
We thought misplaced
Funny isn't it,
And here we are not
Going the way
We once prescribed,
Prophesied,
The way of the ancients ?
……..
Upon a path
Of no end,
A road with no juncture
Where we must decide
The Greater or the 'Lessor'
Yes there are hills,
Here and there,
But the mountains
Have all but disappeared
As we have come upon this new
Seemingly,
Never-ending plateau
Where there is a faint horizon
Beyond the beyond
There is no East
Nor West,
No North,
Nor South . . . .
But I maintain
My point of personal reference
For I do sense still
An Up
And a Down
And most importantly
That which is 'Without'
About me
And that which is 'Within' . . .
Whispering in
A coded language
Without refrain
Over and over again
……
Oh these damned conundrums
…..
This gives me hope
Within this forced solitude
Where the platitudes
Grow upon me
Without cease . . .
Oh, where is my peace,
Where is my peace
……
And then there is silence
© 24 august 2020 : william s. peters, sr.
www.iamjustbill.com