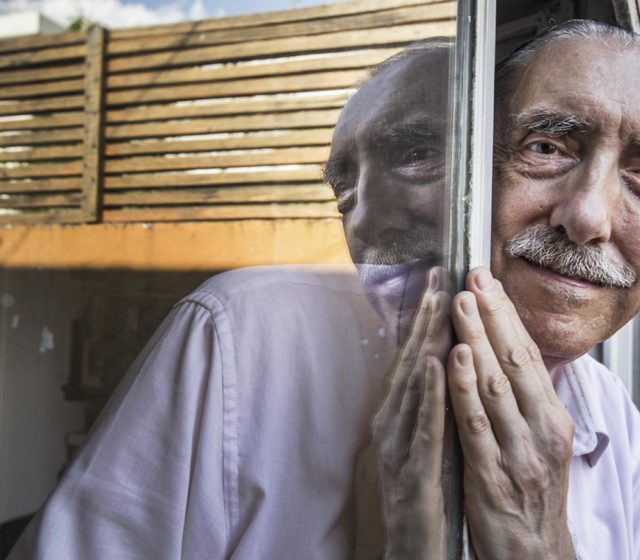 NOCTURNO EN LA AVENIDA SÃO JOÃO
Un travesti en silencio contra un poste
es menos triste que la avenida São João de madrugada,
cuando la niebla se recuesta nordestina
y venérea en las ajenas paredes sin empleo, y esperan
las mujeres, y el borracho espera por su sombra
caída en la calzada. La hora en que se hunden
en su rabo interrogante los gatos sin respuesta
y los marineros cantaron y se miran
esperando por su canto, esperando por oírlo
y todos los idiomas son incomprensibles
como la espera del viento por sí mismo
oyendo su queja vieja de ventana rota.
En el anónimo cuarto sólo iluminado
por el neón afuera, los amantes
son títeres del tiempo: oyen dar
las caricias violentas de la noche y se toman
por la espalda blanda como cama deshecha.
El viento se encajona en la avenida de olor ácido
y los amantes se duermen al neón repetido, sin cuerda
la noche embotellada entre los postes.
English translation:
NOCTURNE OF SÃO JOÃO AVENUE
A silent transvestite leaning against a post
is less sad than São João Avenue at dawn,
when the venereal north-easterly fog reclines against
the empty alien walls, and women
wait, and the drunk waits for his shadow
fallen on the road. The hour when the cats
sink on their question-mark tails with no answers
and sailors have sung and now wait and look at each other
waiting for their song, waiting to listen to it
and all languages are incomprehensible
like the wind waiting for itself
listening to its old wail of broken windows.
In the anonymous room barely lit up
by the outside neon, the lovers
are puppets of time: they listen to
night's violent caresses, put their arms
round each other's back soft as a disheveled bed.
The wind gets trapped in the Avenue of acrid smells
and the lovers fall asleep to the neon's rhythm, untethered,
bottled-up, night among the posts.
                                                                Translation by Mario Licón Cabrera
Alfredo Fressia was born in Montevideo, Uruguay, in 1948. He is a poet and translator. He taught French letters for 44 years. Professor of Literature, was dismissed from teaching by the Uruguayan dictatorship. He then settled in São Paulo, Brazil, where he has been living since 1976. He has worked in literary criticism in Uruguay, Brazil and Mexico. His poetic work has been translated into Portuguese, English, French, Romanian, Italian, Greek and Turkish. His first poetry collection was published in 1973 and most recently in 2013, when he completed forty years of poetry. It received several distinctions and was jury of the international Prize Pablo Neruda next to Ernesto Cardenal. He has been editor of the Mexican magazine of the poetry La Otra in its printed version. He taught at Marshal University, WV, Ohio State University of Columbus, Foundation for Mexican Letters, among other institutions. He has presented his work in Uruguay, Brazil, Argentina, Chile, Colombia, Nicaragua, Dominican Republic, Mexico, USA, France and Turkey. His most recent poems are "Poeta en el Edén" (Montevideo / Mexico, 2012, now reissued in Argentina), "Cuarenta años de poesía" (Montevideo, 2013), bilingual edition "Clandestin" (Harmattan, Paris, 2013) and "Susurro Sur" (Valparaíso, Mexico) , 2016).
Alfredo Fressia nació en Montevideo, Uruguay, en 1948. Es poeta y traductor. Enseñó letras francesas durante 44 años. Profesor de Literatura, fue destituido de la enseñanza por la dictadura uruguaya. Se instala entonces en São Paulo, Brasil, donde reside desde 1976. Ha ejercido la crítica literaria en medios de Uruguay, Brasil y México. Su obra poética ha sido traducida al portugués, inglés, francés, rumano, italiano, griego y turco. Su primer poemario fue publicado en 1973 y los más recientes en 2013, cuando completó cuarenta años de poesía. Recibió varias distinciones y fue jurado del Premio internacional Pablo Neruda junto a Ernesto Cardenal. Ha sido editor de la revista mexicana de poesía La Otra en su versión impresa. Dictó clases en Marshal University, WV, Ohio State University de Columbus, Fundación para las Letras Mexicanas, entre otras instituciones. Ha presentado su obra en Uruguay, Brasil, Chile, Colombia, Nicaragua, República Dominicana, México, EEUU, Francia y Turquía. Sus poemarios más recientes son Poeta en el Edén (Montevideo/México, 2012, ahora reeditado en Argentina), Cuarenta años de poesía (Montevideo, 2013) , la edición bilingüe Clandestin (Harmattan, París, 2013) Y Susurro Sur (Valparaíso, México, 2016). La presente edición de Poeta en el Edén constituye su segunda publicación en Buenos Aires.
Obras
Un esqueleto azul y otra agonía. Ediciones de la Banda Oriental. Montevideo. 1973. Primer Premio Nacional del Ministerio de Educación y Cultura.
Clave final. Ediciones del Mirador. Montevideo. 1982.
Noticias extranjeras. Ediciones del Mirador. Montevideo. 1984.
Destino: Rua Aurora. Original portugués: Edição do Autor. São Paulo. Primeira e segunda edições. 1986. Versión en español: Mafia Rosa. Ciudad de México. 2012. Nueva versión en portugués: Lumme Editor. São Paulo. 2012.
Cuarenta poemas. Ediciones de UNO. Montevideo. 1989.
Frontera móvil. Aymara. Colección Arequita. Montevideo. 1997. Premio del Ministerio de Educación y Cultura .
El futuro/O futuro. Edición bilingüe. Versión portuguesa a cargo de Hermínio Chaves Fernandes. Edições Tema. Lisboa (Portugal). 1998. Plaquette com desenhos de Francisco dos Santos. Lumme Editor. São Paulo. 2012.
Amores impares. Collage de poesía creado sobre textos de nueve poetas uruguayos. Aymara. Colección Cuestiones. Montevideo. 1998.
Veloz eternidad. Vintén Editor. Montevideo. 1999. Premio del Ministerio de Educación y Cultura.
Eclipse. Cierta poesía 1973-2003. Civiles iletrados. Montevideo-Maldonado. 2003. Alforja Conaculta-Fonca, Colección Azor, México D.F., 2006. Melón Editora. Buenos Aires. 2013.
Ciudad de papel. Crónicas en movimiento. Trilce. Montevideo. 2009.
Senryu o El árbol de las sílabas. Linardi y Risso. Col. La hoja que piensa. Montevideo, 2008. Premio Bartolomé Hidalgo 2008.
Canto desalojado. Antología bilíngüe, organizada e traduzida ao portugués por Fabio Aristimunho Vargas, prefaciada por Dirceu Villa e epilogada por Rodrigo Petronio. Lumme Editor. São Paulo, 2010.
El memorial de hombres que me amaron. Mafia Rosa. Ciudad de México. 2012.
Poeta en el Edén. Prefacio de Hernán Bravo Varela. La Cabra Ediciones. Colección del Mirador. Ciudad de México. 2012. Civiles iletrados. Montevideo. 2012.
Homo Poemas. Trópico Sur. Punta del Este. 2012.
Cuarenta años de Poesía. Ediciones Lo Que Vendrá. Montevideo. 2013.
Clandestin. L'Harmattan. París. 2013.
Susurro Sur. Valparaíso México. Ciudad de México. 2016.