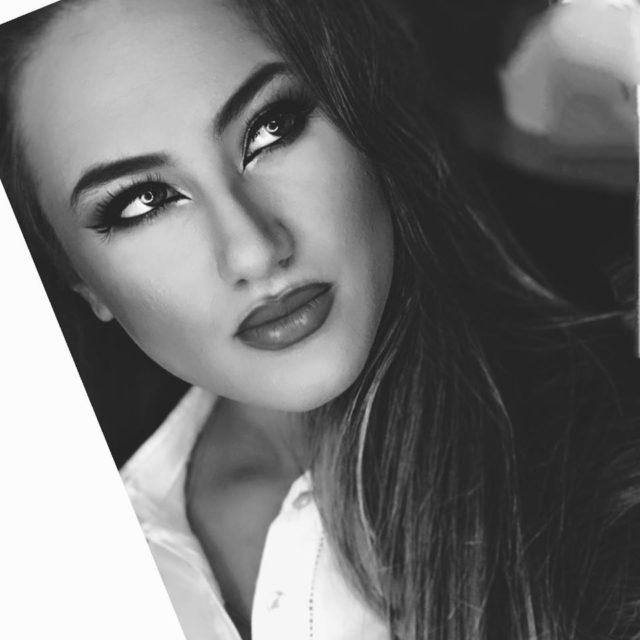 Elma Selimi was born in 1997 in Tutin, where she finished elementary school as a student of the generation, while she finished secondary medical school in Novi Pazar, also as a generation of students. Apart from poetry, she writes essays, words and short stories. She published a poetic book "Unnecessary Ambience". The songs were published in: "Anthology of poetry poet from EX-YU 1991-2017" (Sombor), "Anthology of Gora poetry" (Prizren, 2018), Proceedings "The Box of Love", Collection of poetry by Diwan magazine "Shadows are silver", Journal of Culture and Literature "Avlija". Elma is currently the first year of studies in medicine and psychology. In his spare time he is engaged in photography.
Confessions of a cleaning lady
In those hostels
You could find
Different forms of love triangle:
– people who try out the sheets,
Female bodies, and
Dotted ties;
-single-bed recluses
Who eat stale
Chocolate coated wafers;
-reserved mold
For the homeless and their roommates,
Swollen black beetles.
Nothing unusual
Was happening, just
A regular cleaning – Tuesday.
Until a noise was heard
From the room 501:
"You remind me of my wife more and more!"
What If You Leave Me
You are distant, I know your fingers.
Their touch threatens me –
Embargo! This is no longer mine.
The echo of the voices is coming back
Through the walls of fear
Built from walking away
From you, from myself.
I limited love
Mostly with freedom…
Because what if you leave me?
How will I call you then,
How will you call me,
Who will you be to me
Once you are no longer there
After you put me to sleep
And wake up with another…
When I become an unregistered
Number in your phonebook?
Will I put the blame on Court medicine
And the first year of Anatomy,
Every bus
That went to you
And I weren't in it?
Every message that I
Didn't send to you, because…
You know why.
If you leave me,
I won't judge you,
But I won't blame myself either –
Because it takes two to tango.
Three faces
You who speak with love,
And do bodily harm to love by your behavior;
You who make children, and then abort them
And call them bastards of another;
You who wear elegance publically
And swear like a sailor at your neighbors at home;
You who put a label on morals
And on your shirt wear a kiss of…sin;
You who judge about how to live  life
And don't know how to live your life;
You who educate generations
And lose your face for work.
You talk about love?!
To us who start to look like you
To soon.
Prevod
Elma Selimi je rođena 22.4.1997. godine u Tutinu.
Osnovnu školu je završila u Tutinu, kao učenik generacije i srednju medicinsku školu Novom Pazaru takođe kao đak generacije.
Student je prve godine Medicinskog  fakulteta u Severnoj Mitrovici.
Osim poezije, piše eseje besede i kratke pripovetke.
Zbirka poezije "Nepotreban Ambijent"  nagrađena je književnom nagradom
 "Najemotivnija ljubavna pjesma" u kategoriji mlade nade ljubavnog pjesništva u Mrkonjić gradu 2017.
Pesma «Velike sitnice» iz istoimene zbirke objavljena je u magazinu "Lacuna mag" za kulturu i literaturu Safera Grbić.
Pesma iz nove zbirke «Popis inventara» odabrana je među trideset najboljih u regionu od strane
Biblioteke "Branko Radičević" Žitište.
Pesme su joj objavljene u "Antologiji POEZIJE PESNIKA IZ EX-YU 1991. – 2017.
GODINE KNJIŽEVNI KLUB SOMBOR
Objavila je knjigu pesama "Nepotreban ambijent"
U štampi joj je druga knjiga "Zakasnićemo da budemo ljudi".
Ispovest spremačice
U takvim hostelima
mogli ste sresti različite
oblike ljubavnog trougla:
– ljude koji isprobavaju
krevete, ženska tela
i tufnaste kravate;
– jednokrevetne samotnjake
koji jedu bajate
napolitanke;
– rezervisanu buđ za
beskućnike i njihove cimere
nabrekle crne žohare.
Ništa se nije dešavalo
neobično, rutinsko
čišćenje utorkom.
Sve dok se nije čula
galama iz sobe 501:
"Sve me više podsećaš na ženu!"
Šta ako me ostaviš
Odsutan si, poznajem ti prste.
Prete mi njihovi dodiri –
embargo! To više nije moje.
Eho glasova se vraća
kroz zidove straha
izgrađenih odlascima
od tebe, od sebe.
Ograničila sam ljubav
uslovnom slobodom…
Jer šta ako me ostaviš?
Kako ću te tada zvati,
kako ćeš me zvati,
ko ćeš mi biti kada
ne budeš tu
nakon što mene uspavaš
a jutro budiš sa drugom…
Kad postanem neupisan
broj u tvom imeniku?
Šta ako me ostaviš?
Hoću li kriviti Sudsku medicinu
i prvu godinu Anatomije,
svaki autobus
koji je otišao do tebe
a nisam bila u njemu?
Svaku poruku koju ti
nisam poslala, jer…
Razumeš i ti zašto.
Ako me ostaviš
neću te osuditi,
neću kriviti ni sebe –
za zločin je potrebno dvoje.
Tri lica
Vi koji govorite s ljubavlju,
a ljubav telesno zlostavljate svojim ponašanjem;
Vi koji decu pravite a potom ih abortirate
i nazivate tuđim kopiletom;
Vi koji eleganciju iznosite javno
a kući psujete "kao kočijaš" svoje komšije;
Vi koji moral etiketirate
a na svojoj košulji nosite poljubac… greha;
Vi koji sudite o načinima života
a nemate načina da živite svoj život;
Vi koji obrazujete generacije
a obraz date za posao,
Vi govorite o ljubavi?!

Nama koji prerano počinjemo
da ličimo na vas.