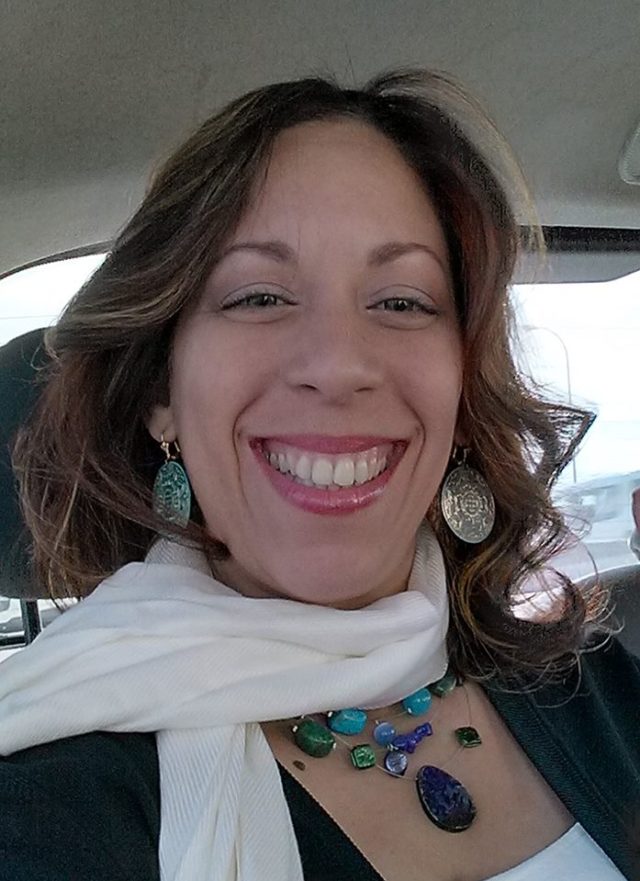 Jael Uribe (Santo Domingo, Dominican Republic) is a writer, designer, storyteller, poet and painter. She is considered the CEO of a female poetic foundation named Women Poets International Movement (Mujeres Poetas Internacional MPI Inc.). She is considered the initiator of the Woman Scream International Poetry and Arts Festival, a worldwide chain of events celebrated during the whole month of March each year to honor women and creating awareness about women violence.
Jael graduated in Publicity Arts at the Universidad Autónoma de Santo Domingo (UASD). She writes poetry and fiction since her early years and has dedicated her time to the development of cultural projects that promote female contemporary poetry internationally. Among her projects there are poetry contests for women, international event callings, poetry anthologies, poetry recitals, etc. All her proposals involve women and focus on non-violence and female issues. Her most notable work was the creation of Woman Scream International Poetry Festival that serves as a launching platform for both, known and unknown female poets and artist, and supporting them towards an international poetry and art career.
Since 2009, she has been part of various cultural events, national and international publications, and supported women causes. Among the major projects she has participated in, are included the National Writing Project in New Hampshire at Plymouth University in 2012, the Children Literature's Institute in Connecticut, USA, 2006.
Cultural Management
Jael Uribe has created several cultural events that involve poets and artists internationally, being the Grito de Mujer (Woman Scream Poetry and Arts Festival) the most important. It counts with the support of many literary groups and private and public institutions, poets, artists and organizations worldwide that work together as volunteers in pursuit of the same goal to promote through poetry and arts messages of self-esteem and non-violence against women. As CEO-President of the Women Poets International Movement, she has coordinated over 600 events from the Dominican Republic in over 50 countries. She has created cultural events to help other poets and artist to become known internationally and through Woman Scream International Poetry Festival, she has helped women involved in the cause, to develop their leadership and cultural management skills.
Her work has unified literary groups, public and private institutions to promote the cause of non-violence. As president of the Women Poets International Foundation MPI Inc., she has coordinated events in over 50 countries. The festival has been featured in book fairs, ministries of culture, and other institutions in several countries.
Graphic Design
In the area of graphic design, Jael has created the conceptualization of various nonviolence campaigns, slogans, logos and the corporate identity of the projects and events she has developed. She is also the designer of the general concept of the Grito de Mujer® brand and all its projects and proposals.
Awards and recognition
In 2017 she received in Norway the prestigious "Freedom of Expression Award 2016" (Ytringsfrihetsprisen) by the Norwegian Author's Union on Oslo.  In 2016 she won International Poetry Award Vicente Rodríguez-Nietzsche celebrated by the Porto Rico International Poetry Festival. In 2015 she was nominated "Women Of The Year" by a Dominican Major Newspaper Diario Libre, for her cultural work in 2014. In 2013 she received the award for her life essay in the Competition Mujeres: Voces, Imágenes y Testimonios de Voces Nuestras, in Costa Rica. In 2012 she received a plaque from the Direction of the XV International Book Fair of Santo Domingo. In 2012, she got recognition for the cultural management of Women Poets International by Ediciones Limaclara, Argentina, 2012. In 2012 she wins a mention at the Diablos Azules poetry competition in Trujillo, Peru. In 2011 she won another mention in the Caños Dorados International Poetry competition in Córdoba, Spain. In 2012 she received a mention in the Nano Expressiones Project in Venezuela, 2010. In 2010, she received a first prize for a children story at the Children's Literature Contest ELIEC in Argentina, 2010.
Books and publications
She is the author of the poetry book "De la Muerte al Fénix" (From death to phoenix), that compiles her poetry up to the year 2014 published by the Ministry of Culture in DR and the Direction of the Santo Domingo Book Fair in December 2016. She was the editor and co-editor of two women anthologies, the "Yo Soy Mujer" (I am woman) and the "Grito de Mujer" (Woman Scream) anthology, where many Spanish speaking women poets participated to support the cause. She has been published on several online and printed magazines and newspapers. Her poetry appears in over twenty international anthologies. Some of her work has been translated to other languages such as Greek and Macedonian. She has written another 4 unpublished books, among them poetry, and stories.
Her blog is http://jaeluribe.blogspot.com
When I was another
One day
when I wasn't me
but another,
I squeezed myself into the stomach of an AIR man
A SEAGULL man with no verbs.
I was a cloud with no destination
an open sky for a CASTAWAY man,
for all the dreams
that were never ours.
One day
when I was another,
I was drowning into the colors of time.
I expected to be a word
on a new notebook
to become eternal.
I searched for a GRASS man, with green spikes.
But I was a newly cut flower
opening its eyes to death.
I was fog lying on the shore,
the tomb of an undertaker.
One day
when it was before
and I was no more than a vase,
an absurd axle spinning on itself
a swarm of deserted children …
I opened my arms and I became dust
following a FLYING man.
I was his, an unnamed blow
in the braids of his black fingers
stained of silences.
I hit myself against the ice and the steel of the wall
between his temples.
One day
when I was another
I fell in love with a MURMURING man
I was music in the ears of an old notebook
plagued with lamentations.
I drifted slowly over his flesh
I looked to become a river, fury and verse;
But I was only a word crushed between the leaves
of another windless autumn.
One day
when I was not me,
but another damned man of WINTER.
I burned my ribs
and planted myself on the fire
I offered my ashes to the wind.
I was born a WOMAN again.
(Poem "Cuando fui otra" by Jael Uribe. Translated from Spanish)