Krystyna Lenkowska
Photo credits to Janusz Płodzień
is a Polish writer. She has published one novel and eleven volumes of poetry three of which have appeared in bilingual Polish-English editions: Keep off the Primroses(1999), Eve's Choice (2005) and An Overdue Letter to a Pimply Angel(2014) in EwaHryniewicz-Yarbrough's translation. In 2014, in Lvov, Ukraine, she published a Polish-Ukrainian bookCare in Oleksander Gordon's translation. In 2017 there have appeared in L'Harmattan (Paris, France) a selection of her poems Fragment de dialoguein Isabelle Macor's translation.
Her poems, fragments of prose, translations, essays, literary notes and interviews have been published in numerous journals and anthologies in Poland, the USA (Absinthe, Boulevard, Chelsea, Confrontation, The Normal School, Spoon River Poetry Review), Albania, Bosnia and Herzegovina, China, the Czech Republic, France, India, Italy, Israel, Lithuania, Macedonia, Mexico, Mongolia, Romania, Serbia, Slovakia, Slovenia, Ukraine, Taiwan.
She has been chosen to the first in US "Anthology of Polish Women Poets. Scattering the Dark", edited and published in White Pine Press by Karen Kovacik in 2015. In 2013, Lenkowska received the MENADA prize at the XVII International Festival of Poetry Ditët e Naimit (Macedonia-Albania). Her poem "The Eye of John Keats in Rome" won the first prize at the Sarajevo international poetry competition "Seeking for a Poem" for the year 2012.
Lenkowska is a member of the Association of Polish Writers (SPP) and Movimiento Poetas del Mundo. She lives in the southeast of Poland.
http://lenkowska.art.pl/
FESTES SHQIPTARE
Për Ditët e Naimit
E gjatë është përralla ilire
dhe t ëgjerë janë krahët e saj
shylyne të largohen nga pipëzat tona të bardha
të shpërthyer anë Krujën pranverore
Skënderbeu dëbon trupat osmane
historia e krishterë te kyvend ndodhi
E bardhë është robja e ushtrisë
dhe e bardhë tavolina e tij
shylyne zgjasim duart tona lara-lara
Pasha i thërret dervishë Sufi
Minaret zbardhin, rriten
thellë janë minierat shqiptare
dhe rrëmbimi i kujtesës poetike të VisarZhitit
fshehur aty thellë brenda kokës së tij
për shumë vite burgu
ndërprerje e zezë e hapur
me një klik argjendi
ne ndajmë bukën e bardhë Haxhi Baba-së.
Translated from Polish into English by Ewa Hryniewicz-Yarbrough.

Përktheu nga anglishtja, Jeton Kelmendi – appeared in Albanian in the anthology of the XX edition of the festival Ditët e Naimit
Nož sacrvenom drškom
Moj otac je mali vitez i igra se
nožem a crvenomdrškom
mašenjimkaosabljomprebacujegaizruke u ruku
– nož – kažem tek da bihneštorekla a on me gledakaoludakinju
Umoren ritualnom borbom pada na bok i tone u san
držećinož na gotovs
kada se budi nož je jedini oslonac desne ruke
leva se drži za vazduh
soba miriše na presečenu jabuku
taj miris spaja našasećanja
neko ne kogučistranerečinekone kome čisti jabuku
posle čita bajke
staripoznanik donosi lektiru
za ubijanjevremena
aliknjigasanaslovom "Svetskaknjiževnost" nie pasuje na dlan
neblista i nijecrvena
nasumičnoprevrćemstranice
– Džon Apdajk Picajzle – čitam na glas da bihubilatišinu
a otac me gledakao da sam pala s marsa
stara knjiga se rapala na dva dela
zakasneli poklon za prijatelja ljubitelja književnosti
muškarca i njegovog konja
introligatora
ni jedan od njih više ne zna štasu to picajzle i šta se prosulo na pantalone
seks ili sos od pečuraka
najvašniji je nož sa crvenom drškom koji ima smisao.
*
Smrt je jednostavnastvar.
K.I. Galčinjski
Smrt je jednostavnakaokolevka
Obesučudaodlaženja i dolaženja
U vremenusadašnjemsavršenoizvedena
ima – nema
nema – ima
fizičkidokazpostoji
u to nemasumnje.
PrevelsapoljskogAleksandarŠaranac;appeared in POBOCZA, nr 3-4 (37-38) / 2009
HOSPITAL ACCOUNTS
I step accidentally into a clear puddle by Father's bed
"Glucose", says a woman in the next bed
yes there's a leak in the IV
every seventh drop falls on the floor I've counted
I walk down the fire escape and listen to the rhythm
of my soles sticking and unsticking
I take away something that could have been life
I carry it out on my shoes together with dust and mites
the squeaky steps fade as I descend
the sticky stuff dissolves in street dirt and disappears
can I tally what I've taken from him over these years
how much I drained or changed
into small drops?
Translated by Ewa Hryniewicz-Yarbrough, appeared in ABSINTHE 10 (fall 2008), USA
NARÓD
Andrijowi Bondarowi
Ukraiński pisarz (niezły) mówi
że naród mu niepotrzebny
ciekawe i oryginalne że mówi to teraz
niedługo po Majdanie czyli Rewolucji Godności
i w trakcie wojny na Wschodzie Ukrainy
w końcu nie musi się od razu zaciągać do wojska
może się tylko zaciągnąć papierosem lub trawką
i na przykład napisać manifest taki
że okupantowi pójdzie w pięty
ale żeby być tak obojętnym na to słowo?
się dziwię
zwłaszcza że się wie że on kocha niektórych Polaków
a Polacy wiadomo patriotyzm wysysają z krwią i z krwi
(że wymienię tylko Gombrowicza i niech mnie trzaśnie i ściśnie jeśli Witold G. nie zbił kapitału na swoim narodzie)
mnie – to jakby też naród niepotrzebny na co dzień
się dziwię sobie po cichu
a w szczególności niepotrzebny mi jego tłum napierający na jedynie słuszną prawdę
niepotrzebny mi jego głos w megafonie pod kościołem lub ratuszem lub marketem (dlaczego megafon na pół miasta skoro w środku wciąż wolne ławki krzesła wózki?; a może właśnie dlatego)
z dwojga złego
powiem szczerze
choć nie wiem czy to bezpieczne
wolę beznarodowca niż narodowca
fanatyków wszelkiej maści boję się jak dżumy
ale jednak naród to naród
zwłaszcza swój naród
bo przecież nie można zaprzątać sobie głowy kilkoma narodami naraz
nie wystarczy czasu zdrowia i serca
jednego życia zabraknie
jeden naród ma wspólną historię
no, co najmniej bardzo podobną
naród ma wspólny język (nasz ma, co się ceni, bo to wiele upraszcza; czasem tylko akcent mu się kolebie)
naród śpiewa ten sam hymn (bywa, że z diametralnie różnych powodów)
naród można rozpoznać po przekleństwach i modlitwach
a swojskość jest jak ojciec i matka
naród jest przyczynkiem do rozmowy o tym że bywa przyczynkiem do wojny i pokoju
naród jest mi stanowczo potrzebny od czasu do czasu
choćby po to żeby napisać ten wiersz z jakiegoś punktu widzenia.
appeared in FRAZA nr 4 (90) 2015
Books by Krystina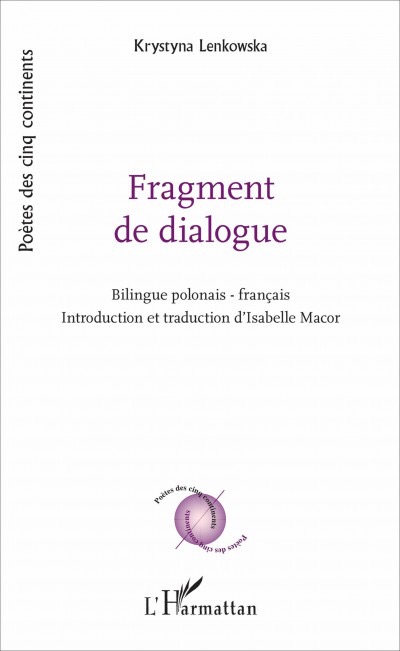 My country Poland is beautiful
https://www.youtube.com/watch?v=Qbu_FRg8vuU
Pictures from Poland
http://www.picswalls.com/pic/poland-wallpapers/