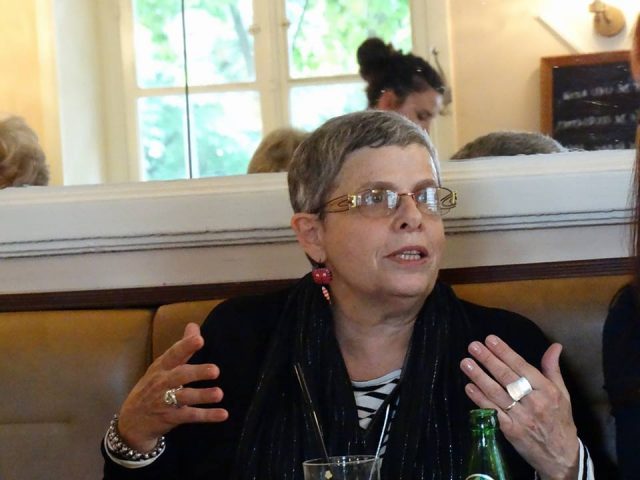 Marilyne Bertoncini, co-responsable de la revue Recours au Poème  (recoursaupoeme.fr ) docteur en Littérature, spécialiste de Jean Giono, collabore avec des artistes, vit, écrit et traduit. Ses textes et photos paraissent dans diverses revues françaises et internationales, et sur son blog  : http://minotaura.unblog.fr.  Ses poèmes sont traduits en hébreu, en bengali et en anglais. Ses traductions de poètes anglais et australiens  et son premier recueil, Labyrinthe des Nuits, sont parus chez Recours au Poème éditeurs, comme sa traduction des poèmes de Ming Di, Livre des 7 Vies, et Histoire de Famille, illustrés par Wanda Mihuleac, aux éditions Transignum en mars 2015. Le numéro 453 d'Encres Vives (avril 2016) a publié une première version de La Dernière œuvre de Phidias, qui sort suivi de L'invention de l'absence chez Jacques André éditeur en 2017. Aeonde (éditions La Porte) et « Le silence tinte comme l'angelus d'un village englouti »(éditions imprévues) sont aussi parus en 2017.
Le prix d'honneur Naji Naaman 2017 a été attribué au manuscrit encore inédit de L'Anneau de Chillida.
INDIAN L/INK
Translucent and moving jade cave,
the mulberry tree with its chiseled leaves
gives you the amphibolic shelter
of its flickering shadows
and the soft  glare of  the fruits
the color of  Indian
ink
Sitting in its shadow
you watch them
shine and disappear according to
the beam that hits with each tremor of the leaves
and their dark silk
in the feverish summer wind
So black and long, just like
beetles –
once, one of them flew –
shadow upon shadow, from your startled
fingers
and sweet and sticky,
they stain the fingers
and the corner of the mouth
with a scented ink
One more and another –
On the tip of your toes
you reap with your fingers a stellar infinity
under the dark vault of the mulberry tree
rustling with blond wasps
circling the trunk as if it were a mast
the axle of a world which includes you
takes you away
in a return journey
a trip enshroud in silk
back to one's own
depth
*
The mulberry tree is an Indian
Link
and the poet- a shadow picker
picking the beetle-
colored mulberries –
dives
to the antipodies of this world where words
are unequivocal
and seizing the garnet
drifts in the deep sea where his dream
drives him
*
There
in the India of the mulberry with its endless branches
the words
– like the granules
of the fruit between your fingers
cluster
morula –
the embryogenesis of the poem
in the hyperlink
melting
ink
and sugar
black
Indian
L/ink.
(translated by the author)
AENCRE DE CHINE (published by éditions Transignum and revue Arpa)
Translucide et mouvante grotte de jade,
le mûrier-platane aux feuilles ciselées
t'offre l'abri amphibole
de ses ombres tremblantes
d'où jaillit l'éclat sourd des mûres
couleur d'encre
de Chine
Assise dans son ombre
tu les guettes
Elles brillent puis disparaissent selon
le rayon qui les frappe sous le frisson des feuilles
et leur soie sombre
au fiévreux vent d'été
Noires et longues comme
des scarabées –
naguère, l'un s'envola,
ombre sur ombre, entre tes doigts
surpris –
et poisseuses et sucrées,
elles tachent les doigts
et les coins de la bouche
d'une encre parfumée
Encore une, puis une –
*
sur la pointe des pieds
tu moissonnes des doigts un infini stellaire
sous la voûte nocturne du mûrier-platane
bruissant de guêpes blondes
tournant autour du tronc comme un mât de navire,
l'axe d'un monde qui t'englobe
t'emporte
dans un voyage à rebours
un voyage en soie
un retour au fond
de soi
*
Le mûrier est ancre
de Chine
et le poète-cueilleur d'ombre
cueillant les mûres
couleur d'escarbot –
plonge
aux antipodes de ce monde où les mots
sont univoques
et saisit l'escarboucle
flottant dans les grands fonds où le rêve
le porte
Là
dans la Chine du mûrier aux infinies ramures
les mots
– comme les granules
du fruit entre tes doigts
s'agglomèrent
morula –
l'embryogenèse du poème
dans l'hyperlien
fondant
encre
et sucre
noire
ancre
de
Chine.
Marilyne Bertoncini
https://twitter.com/marilynebp