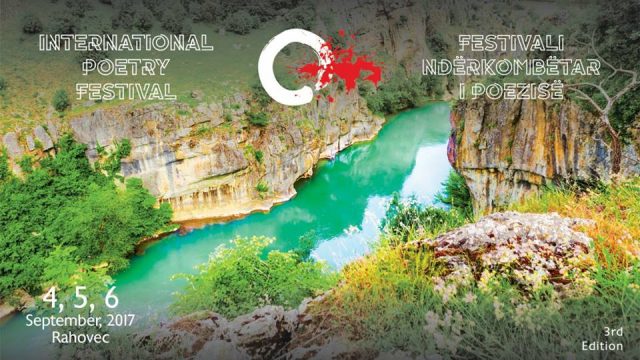 Sotirios Pastakas
In 1971 at the age of 17, 16 and a few months, in fact, I crossed the then Yugoslavia with a tourist coach. It was an excursion from Larissa to the old Albania …
When Fahredin Shehu invited me to participate in the third edition of the International Poetry & Wine Festival in Rahovec this year, without a second thought I decided to go by car, to see the same places at a distance of 46 whole years. So I got the bus from Thessaloniki to Skopje and from from there another bus to Pristina.
The sunny path, through green mountains and lagoons, with familiar rivers to follow the road. After the border, a straight road, impressive for the works that were carried out on both sides: a building uproar, as we have forgotten in the last ten years in Greece. Kosovo immediately gave me a sense of intimacy, which was confirmed with the driver of the taxi who was waiting for me in Prishtina to take me to Rahovec. Student of the History Department of the University of Prishtina, courteous, smiling and talkative, later confessed to me that he wanted to deal with the history of the Balkans.
First heartfelt meeting with Fahredin in the hotel restaurant where we ate along with his sweet wife and their two children: those kebabs and me amazing half-baked veal and I tasted the local white wine "old cellar" full of fruity flavors.
After the lunch break down to the meeting venue, the hotel's event hall, I met the poets as well. The impression was excellent from the first moment, I felt comfortable immediately and as it turned out, it was not at all deceitful. It is true that at the various festivals we are helping to get the necessary self-knowledge for our life and work, and that is their healing function that makes them loved.
Apart from that, however, Fahredin managed to create a real group of poets, not to simply pick up "units." Cheerfulness, understanding over barriers of language, political and religious beliefs, understanding and mutual appreciation created a climate of mutual trust and love. The fact that our communication still holds: real and sincere, because the feelings that connected us were sincere.
My dear poets, my dear Fahrdin, hope to see you soon in peace and love!