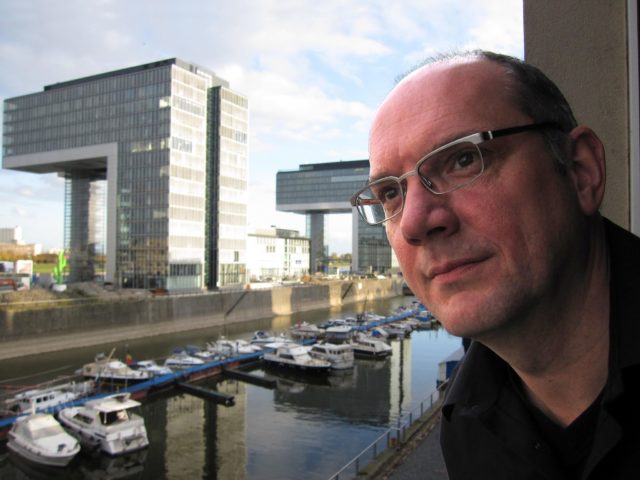 Guy Helminger was born in 1963 in Esch / Alzette (Luxemburg) and studied German Literature and Philosophie in Luxemburg, Heidelberg and Cologne.
Since 1985 he has been living in Cologne and working as a writer.
2012 poetics lecturship at the University of Duisburg-Essen.
Together with his colleague Navid Kermani Guy Helminger presents since 12 years the "Literary Salon International" in Cologne. From 2010-2012 he presented a cultural show on Luxemburg TV and from 2012-2017 a show called DNA.
2002 he received the Förderpreis für Jugend-Theater des Landes Baden-Württemberg, the same year the  Prix Servais  for his book "Rost" and in 2004 the 3sat-Preis. His hometown honored him in 2006 with the Prix du mérite culturel de la ville d'Esch. In 2015 he got the postpoetry prize and 2016 the Dresdner Lyrikpreis for his poetry.
Prose:
Die Allee der Zähne. Aufzeichnungen und Fotos aus Iran. (Notes from Iran) capybarabooks 2018
Neubrasilien. (Novel) Eichborn Verlag, Frankfurt 2010
Eine Tasse für Nofretete Nilpferd. Mit Zeichnungen von Manuela Olten. (Book for children) Bloomsbury/Berlin Verlag, Berlin 2010
Morgen war schon. (Novel) Suhrkamp 2007
Die Ruhe der Schlammkröte. (Novel) Kiepenheuer & Witsch 2007
Etwas fehlt immer. (Short Stories) Suhrkamp 2005
Rost. (Short Stories) Editions Phi 2001
Poetry:
Die Tagebücher der Tannen. Edition Rugerup 2018
Nördlich der Ferne. Mit Serigraphien von Robert Brandy. redfoxpress 2017
Libellenterz. Gesammelte Gedichte. Editions Phi 2010
Ver- wanderung. Editions Phi 2002
Leib eigener Leib. Editions Phi 2000
Entfernungen (in Zellophan). Editions Phi 1998
Die Gegenwartsspringer. Verlag am Schluechthaus 1986
Radioplays:
45 Umdrehungen. Kurzhörspielserie. WDR 2016/2017
Fischsuppe. WDR 2011
Frau Gantner. WDR 2010
Rekonstruktion Kresch. WDR 2005
Fluggeräte. WDR 2003
Nachbarn. HR 2002
Wasser.  WDR 2002
Morgen ist Regen. WDR 2001
5 Sekunden Leben. WDR 2001
Habicht. SR 1999
Theater:
Guten Morgen, Ihr Völker. Premiere at the Kasemattentheater 2017
Performance. Premiere at the Théatre du Centaure 2016
Venezuela. 3 Plays. Capybara Books 2015
Das Leben hält bis zuletzt Überraschungen bereit. Premiere at the Grand Théatre de Luxembourg 2011 (2012 staging in Vienna)
Venezuela. Premiere in London 2003  (Oberon Books, London 2003; German Original: Editions Phi 2004; France: Editions Théâtrales 2008)
(Staging in Luxemburg (2004), Vienna (2004) und New York (2005)…)
Screenplays:
7 Screenplays for the Luxemburg Sitcom "Weemseesdet" Luxemburg 2011
Poetics:
Guy Helminger. Ein Sprachanatom bei der Arbeit. Hrsg. v. Rolf Parr, Thomas Ernst und Claude D. Conter. Synchron Verlag, Heidelberg 2014
Editor:
Hällewull. Anthologie of Luxemburg Literature. Publishing House of the Slovenien Writers Association. Edited together with Vesna Kondrič-Horvat. Ljubljana 2014
A morning with a cold
drags itself along the timber walkway
in Harlingen rows across the sea in
hopes of reaching the horizon
soon. The black-headed gulls
slice sails on the masts When
the boats leave harbour the sky
will consist of few remnants of
fabric and we shall hold on to
the fishing rods and peer inside
where the dead have been robbed
of their bones Question: What would
you take with you from a
flooded house? Answer:
The flood
But meanwhile we are rich enough
and have instructed the oysters
to produce pennies in place of pearls
Translation: Delphine Lettau
Hesitation space
In the night there is this changing
moment of abiding
when rock records the fragments
of the universe
The mountains sweat forth the snow
that hardens in the morning
at sight of the valleys
And the echoes replicate around the
parallels of the light avalanches dark
ski slopes on the
descending route to photosynthesis
One of these changeable photographs
shows the fir trees' growth as
black Christmas
for their trunks are worn down by
our breath
Whereas the mountains know ways to
protect themselves draw the wings
of millennia over their grey nest
Translation: Delphine Lettau
Timeless matters
The burial opened the gates
and for the length of a room we saw
the walls of time. The dead man lay
on a table of compacted
minutes and we understood:
no-one's days will run out
Under ground the moles
were folding the night into
black pages, some into
fitted sheets for the sagging
rear view of the forest floors
But the term stood as a fir tree
next to the mortuary and slowly
segued into a birch tree
Translation: Delphine Lettau