Alan S. Kleiman is the author of GRAND SLAM, a Collection of Poems published by Crisis Chronicles Press. His poetry has appeared in Blue Fifth Review, Pirene's Fountain, Verse Wisconsin, The Criterion, and Festival Writer. Fine Line Press and Red Ochre Press have anthologized his poetry and it has been translated into Spanish, Russian, Polish, Norwegian, Danish and Ukrainian. Alan lives in New York City and works as an attorney.
Don't forget oil
The other day
My car talked to me.
Called at work said,
don't forget oil
on your way home,
and air, bring air too.
"Ok" I mumbled humbled.
Weeks later on the road
We never raised it
As if the conversation
had never happened.
In the Air
In the end,
Nothing mattered but her smile
He remembered it in the shower
Or passing a staircase
Or by the garden
Where the rosebushes stood
As thorns and sticks
Still too early
In this season.
Inside,
He felt it
When he heard her voice
Or when he smelled perfume
On a passing subway or
Left in an elevator
Behind.
In the end,
Its warmth left him thriving
Sustained
Like toast hot and crisp
With butter melting
Nothing else to eat
Nothing more needed
Honey floating in the air.
Dew etc.
I feel wet
not rain like but dew
like du, du liegst mir im Herzen do
like call me in the night do
like remember me in the darkness of the day do
like don't leave any stone turned up do
like don't without me do.
The 23rd Sonata
The day before,
My mother rang me up
Singing Beethoven's
Appassionata first movement
Like it was written for voice
Into the receiver.
I moved the phone farther from my ear
Not comfortable having someone sing into my ear
Especially something written for piano
Plus she was dead two years.
I listened like a good son,
Like a musician, the violinist at heart
And felt the Beethoven waft across my body
Like warm rage.
What's that sound my wife asked
From the other room
It's your mudder-in-law
Breaking wind – I mean bread
From beyond the fringe of life.
She thought I was a wise guy
Didn't retort but ignored me,
And I hummed the passionata
With all my heart and soul
With every fiber of my guts
Like the day I was born
Till the day I'll die.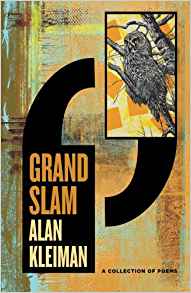 https://www.amazon.com/Grand-Slam-Alan-S-Kleiman/dp/061585771X