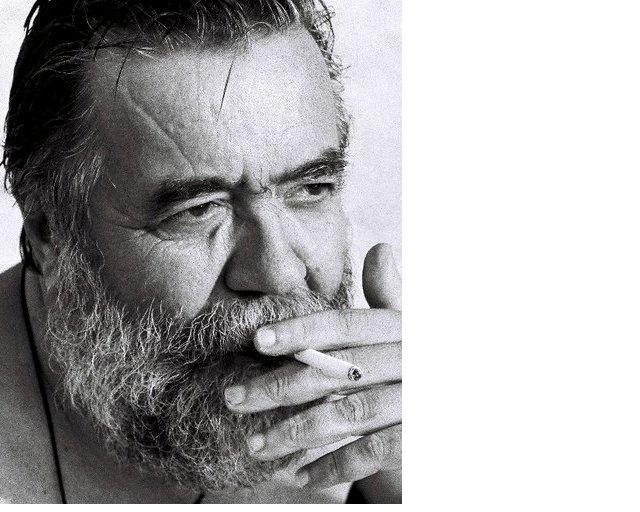 was born in 1954 in Larissa, wherever he returned in 2012. He studied medicine in Rome and Psychiatry at Athens (Mental State Psychiatric Clinic). For thirty years he worked as a Psychiatrist in Athens. He published sixteen collections of poetry, a theatrical monologue, a book of essays and translations of Italian poets. In 2001 he co-founded the World Poetry Academy in the city of Verona, and in September of the same year received a scholarship from Hawthodern Castle, International Retreat for writers, near Edinburgh. He read poems in various International Poetic Festival (Sarajevo 2006 and 2011, San Francisco 2007, Rome 2010, Izmir 2012, Cairo 2013, Istanbul 2014, etc.) is a member of the Writers Society from 1994 and has set up various print and electronic journals. Beyond editor but is a radio producer and teacher experiential writing. He has been translated into twelve languages ​​and the "Trilogy" book (ed. Presence, 2012) was released in the US in 2015, entitled "Food Line", translated by Jack Hirschman and Angelos Sakis. His first book of short stories "Dr Ψ and his patients," released in 2015 by publishing Ink. In December 2015 he was awarded the Annibale Ruccello Award for Poetry in the Third Festival of Teatro Stabia. On February 5, 2016 was declared the winner in the competition Ritratti di Poesia.140 (poesia tweet), the Fondazione Roma. In the spring of 2016 released a personal anthology of poems (1986-2016) in Italian "corpo a corpo" from Multimedia publications "Casa della Poesia", that win the NordSud International Prize for Poetry/Pescarabbruzzo foundation in 2016.
Sotirios Pastakas, for Pristina festival
*
No, I don't come from Eleusis. Southern Italy.
Sandy returned from the Aegean rally in Nisyros.
I found Yannis in 37 and he bought me a mojito.
Mihos has reached the final stage
of his glorious grieving. Akanthos undertook
painting the first rung of the ladder.
X2, true to his nickname,
keeps chicks for only two weeks.
Fotis is sick of his mug and wants
to undergo face plastic surgery. Goumas
hasn't set foot out of Chalandri. Nikos
informs us that the Secret Service
stopped monitoring his computer.
It always happens like-so.
The Furies have chased Irene out of Argos.
Dimitri, his bosses out of Zara.
Hector's been kicked out of his house. Laskaris
never stopped asking for loans in June, July
and August. Kostas managed to double
his profits. And Spyros writes a poem every
day in Marseille, Glyfada and Olympia.
Yannis and Tasia celebrated 50 years of
marriage in Rovies. Mitsos voluntarily entered
Sinouri's clinic for a month. Elena said she
was cutting down on wine, then changed her mind.
It always happens like-so.
Gheli returned from a plain Chalkidiki with the doctor
two years now still unmarried. Joanna escaped for a bit
from her kids and her husband and went alone
to Pylos. Katerina bought a small one-bedroom flat
on the top floor in New Smyrna and is blissful.
Maraki returned from her one-night stand
to a cold douche at dawn. Lina was afraid to carry
from Colombia a souvenir coca-leaf for everybody. Our wives had
sex with our friends and we with the wives of our friends.
Those of us who happened to still have children
sat down and patched things up. It always happens like-so.
Before the Revolution.
With barley-broth
and garlic
the pyramids were built.
Man needs
nothing more
in order to leave
monuments behind.
An apple-core.
Someone was sitting here
biting an apple.
Then he disappeared. The same day
that History recorded three
deaths in the center of Athens.
Someone else at another
spot left his cigarette butt
before he disappeared too.
History only records:
apple-cores, cadavers, ashes.
GREECE, A MOPED
Greece travels at forty MPH
like a moped along the coastal road.
The highest possible speed
coincides with the potential
of an enamoured look.
To record, to relish,
to recall the light's slightest
deviations, the sea's
rolling, and the wind's direction.
Greece and her hugging
pillion passenger shut
their eyes together.
She will never learn what
he meant to her, nor how very much
he owed her.
Thanks to low speed,
Greece is the only country
when at twilight
going to or returning from Sounion
may last a lifetime.